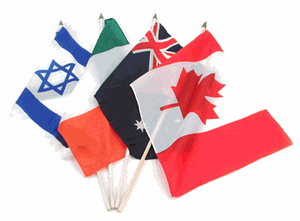 "click to enlarge"
Choose from over 300 miniature flag styles from $0.40 each. Including -
Miniature World Flags, Miniature World Flag Sets,
Miniature Blank Flags, Miniature State & Territorial Flags.

These small miniature flags, often called stick flags, or desk and table flags, offer great quality, are available in 4"x 6" and 12"x 18",
and are nicely printed onto 100% polyester fabric in bright brilliant colors.

Both the (4"x 6") mini flags and the (12" x 18") stick flags are great for classrooms, parades, political rallies and other special events.

Both sizes come attached to a staff through a sewn sleeve pocket, and are ready for display !