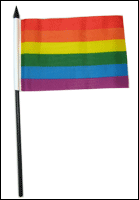 Miniature Rainbow Flag

Rainbow Gay Pride small miniature desk flag $0.40 each; measures 4x6in on 10 inch black stick. These little Rainbow Flags make great table and desktop decorations, each one printed in brilliant colors for long lasting beauty.

Rainbow Gay Pride stick flags $0.75 each, measures 12x18in and comes mounted to a wooden stick with spearpoint, through sewn sleeve. Great for party decorations, rallies, parades, and other special events..

Supplying top quality Miniature Rainbow Pride Flags since 1989 ...